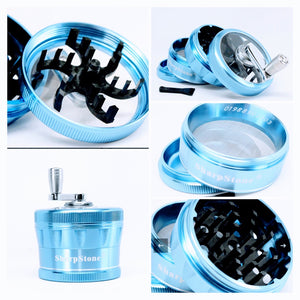 SHARPSTONE® V2 CRANK TOP - 2.5" GRINDER
Dixie Smoke Shop
Regular price $54.99 Sale
The New SharpStone® 2.0 Crank Top 4 Piece Grinder – 2.5" Silver
Welcome to the new SharpStone Grinder! This re-designed grinder still provides you with the same great features of the original SharpStone Grinders, but with a few modest upgrades in ergo design and quality. We also want you to know that you're getting the authentic SharpStone experience so there have been a few more added features to help prevent counterfeiting and improve your overall grinding experience. 
The SharpStone® V2 Crank Herb Grinder:
Made from Aircraft Grade Aluminum Rod using the newest in CNC machining technology.

Anodized for smooth finish; this means no wear or smudge marks.

Razor sharp Diamond Cutting Blades for extreme efficiency.

Stainless steel pollen screen allows for only the finest pollen to fall to the bottom catch.

Powerful Neodymium Magnets for incredible closure.

Thin poly ring around top grinding section, for smooth grinding and no friction.

Comes with protective pouch and pollen scraper!
Size:  2.5" Wide.